Do we need a church building?
No, faith can be displayed everywhere, praying can be done right under the open sky. The early Christian congregations met inicially in private homes or in open places. This served the purpose of the congregation more then well.
But as the congregations of God kept growing, and daily newly added members kept being added to the already existing congregations, meeting in houses, started to burst at the seems. Meeting places that could hold more people were needed. A central building seemed the locigal move, and so the church building came into existance! Templar church in France.
Meeting in houses
If a Templar church congregation is small, it is welcome to use the early Christian tradition/method of meeting in a private home or any other private quiet location.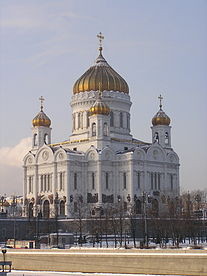 Exterior:
A templar church has 4 towers; one on each corner, each one placed so as to be facing North, East, South and West. The church has 4 entrances, of which one of each is facing one direction of the compass. The center tower is domelike, letting in light to the center of the church. All four sides of the church are identical. The cross shaped church is usally in the center of a round garden. This round garden (the sancuary) is formed by a pillar fence of crude pillars (stonehenge like.) The size of the garden is up to the congregation. Inside the garden there is usually found one big tree, facing east, that represent the "Tree of Life". (anyone entering sancuary grounds, is under the protecion of the church, here the state has no power*)
*non recognized churches, religions, can not offer sanctuary status!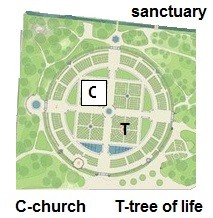 Interior:
The nave of a templar church is always round, and each church should contain a baptismal pool big enough for total body emersion. Each church can have a library where the holy Templar Bible and other documents can be kept. (if the congregation can not finance the assembling of a library, the space may be used to house another frato.)
No worldly transactions, bussiness transactions or goverment transactions may take place inside the building or on the grounds. the church is exclusively a building dedicated to the devotion to God.